Removal of 62,000 Tubes-CPS Energy, TX
Thu August 6, 2015, 12:29 pm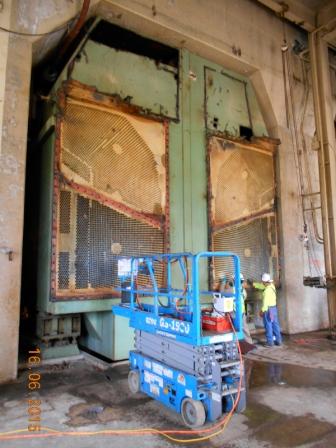 Opening of 1st of 4 condensers
Cleint: Northstar Demolition
Plant: WB Tuttle -500 MW, San Antonio, TX
Plant Owner: San Antonio Public Sevice (CPS Energy)
Scope: Extract 62,000 Copper Alloy Tubes for Salvage
Northstar began extracting tubes at the Tuttle Station during July of 2015 using a Detubing System manufactured by PSR for Northstar in 2014. This particular equipment package had been used to extract 120,000 tubes from plants on the east coast prior to being shipped to Texas.
PSR's field technician provided refresher operation and maintenance training to Northstars labor crew and performed a 100,000 tube tune-up service on the equipment.
On completion of the Tutle project the equipment package, consisting of 1 ea. Cutter, Collet Puller , Extractor and Chopper will have successfully past the 200,000 tube mark which will be a first for one of our systems and a marked achievement in the tube equipment industry.
Nortstar is reportedly the largest demolition and asbestos abatement contractor in North America.
PSR manufactures state -of -the condeser tube removal tools and equipment for the Mechanical and Demoltion contracting industries.
PSR: 805 565-9025